We are happy to announce that Real NetStat 3.1 has been released. In this version we added IPv6 for connection monitoring and TCP/IP statistics.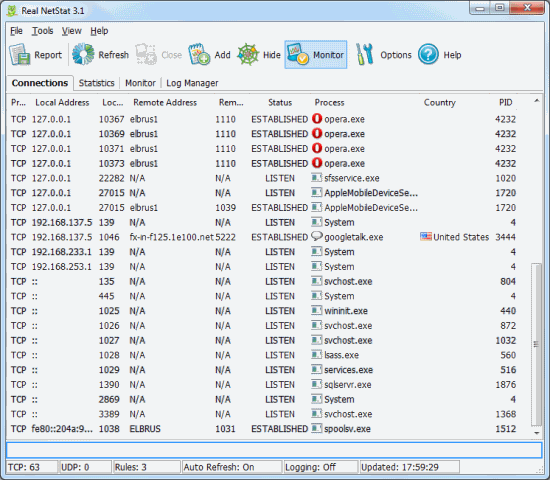 Now all protocols (TCP, UDP, IP and ICMP) shows IPv6 statistics.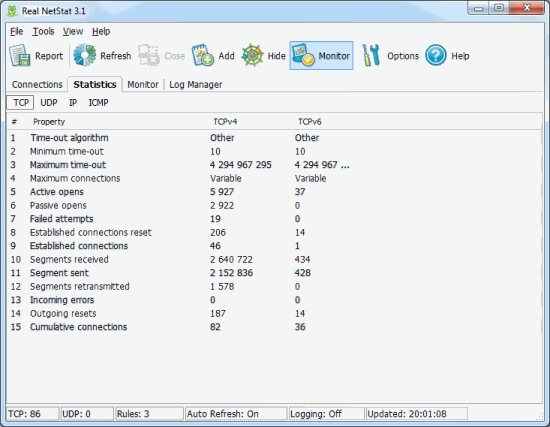 Also was fixed the problem with copy text to the clipboard and the conflict with Sticky Password utility. The issue with saving HTML report is fixed in this version too.
Real NetStat is the great visual alternative tool to the command line netstat.exe for live connection monitoring!
November 19th, 2011
flexbyte
I was asked by email how to monitor only one local port, so decided to answer in blog.
Let assume that we have a HTTP server (Apache) on local port 80 and we want to monitor all HTTP connections. With installed NetStat Agent it is very easy to do.
After running NetStat you will see a lot of connections (click to see the large picture):

So we need to create a filter in "Monitor" tab to hide unwanted connections:
In the context menu (right click) select "Clear" to clear all fields.
Set the name of filter: "hide all".
Set action as "Hide".
Check on the box "Enabled".
Press "Add" button to add a new filter.
The result you may see on the screenshot:

After adding this filter all connections are invisible. So we need another one to show only wanted connections:
In the context menu (right click) select "Clear" to clear all fields.
Set the name of filter: "show http".
Set the local port: 80.
Check on "Select" action only.
Press "Add".
See screenshot:

Now if you select "Connections" tab again, you will see only HTTP connections:

With NetStat Agent you may monitor HTTP visitors in real-time mode!
February 9th, 2010
flexbyte
A good day to all of you (the one's who take the time just to read my story).
My reaction for NetStat Agent is as follows.
I just use it for monitoring and logging my server, it's finally a good tool I came accross for reading and understanding in normal human being language about whats going on in your system, with port usage, external adresses and more.
Okey, I know all commands by hand also, but this is just a good tool for doing a job easier!
Thats my reaction on NetStat Agent!
Greetings,
Peter Lazaroms
http://alienhost.nl
July 25th, 2009
flexbyte

Comments Off