We are excited to announce that NetStat Agent 3.4 has beed released. In this version we updated netstat, ipconfig and statistics tools.
First of all, we found the way how to print DNS cache information in the table without calling "ipconfig /displaydns".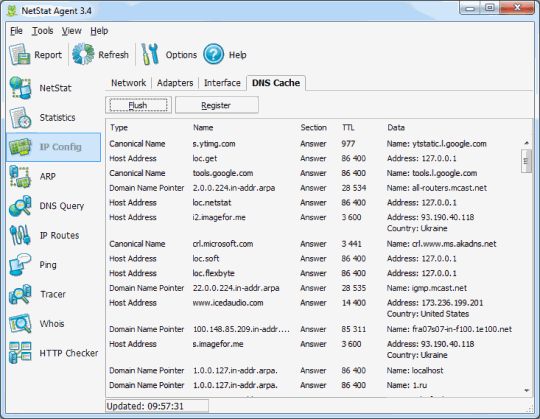 For netstat tool we added two buttons in the status bar to control auto refresh and logging. Also was fixed the issue with scrolling when netstat shows a lot of dynamic connections in the list and a connection is selected.

NetStat Agent 3.4 now can show IPv6 network statistics. Also we improved software stability - thanks everyone who sent crash reports to us!
March 12th, 2012
flexbyte
Purchase page has been changed. Before, it had a lot of text and links. But today I decided to simplify it and make it as easy as possible.
As a result, we can now see the link on the page for each product - NetStat Agent and Real NetStat. In addition, volume discounts are moved to a separate page.
Hopefully this will give me new customers!

Only this week you have a good chance to buy NetStat Agent or Real NetStat with discounted price. The discount coupon code you can find on our facebook page. Harry up, the discounted price is valid until March 5!