We are excited to announce that NetStat Agent 3.4 has beed released. In this version we updated netstat, ipconfig and statistics tools.
First of all, we found the way how to print DNS cache information in the table without calling "ipconfig /displaydns".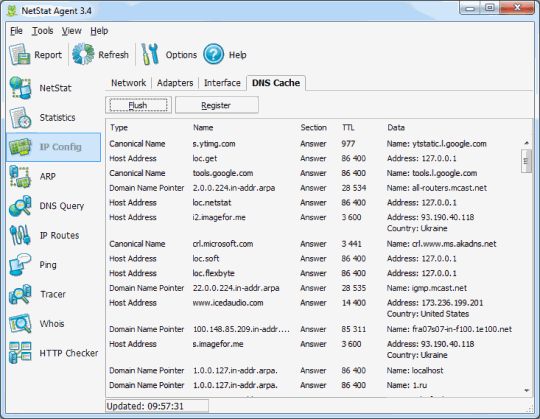 For netstat tool we added two buttons in the status bar to control auto refresh and logging. Also was fixed the issue with scrolling when netstat shows a lot of dynamic connections in the list and a connection is selected.

NetStat Agent 3.4 now can show IPv6 network statistics. Also we improved software stability - thanks everyone who sent crash reports to us!
March 12th, 2012
flexbyte
NetStat Agent 3.3.4 has been released.
In this version there was solved the issue with MAC address changer (ipconfig tool) which caused the program to crash.
Last time we received some feedback about problems with the registration program. Before this version it was possible to use the registered program in all user accounts on the PC. But from now, the registration of NetStat Agent will be attached to user account. It means that you must enter license information in each user account.
But as alternative,it is still possible to use the portable NetStat Agent version for all users.
October 17th, 2011
flexbyte
Sometimes it is useful to know your external IP address. For example, when you share HTTP/FTP server and you do not know or forgot your IP address. In this case, if you use NetStat Agent 3.0 every time, it will be very easy for you! Because you do not need to open the Internet browser and search for a special service.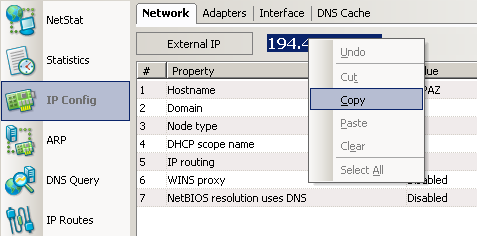 To find your IP address you must open IPConfig tool and press External IP button. After a few seconds you will see your external IP address. You may copy it to a clipboard (the right mouse click).
March 26th, 2010
flexbyte
Recently we have received many letters from peoples requesting to translate the user interface into their native language. Typically, this is German, Russian and French users. But unfortunately, our current version of NetStat Agent 2.1 does not allow us to give all text strings to translator.
So now we are working on a new version of 3.0, which will support the opportunity to choose your own language. Also we will add some new features to traceroute, ipconfig utilities.
The beta version 3.0 will be available soon. And the final 3.0 version I think we will be available in the middle of May.
April 25th, 2009
flexbyte

Comments Off
Troubleshooting IP networks has never been simple. Various LAN adaptor settings, router and firewall configurations, DNS and TCP/IP settings are just a few things to mention. UNIX administrators enjoy a variety of command-line tools such as netstat, arp, ipconfig, ping, and traceroute providing basic information about network configuration and performance.
Windows administrators have access to the same command-line tools. However, they fuss about them instead of enjoying these legacy command-line utilities. Network information is only scarcely available in the Windows graphical user interface, but is never assembled in a single place.
NetStat Agent makes diagnosing network connections and troubleshooting connection problems a snap. Combining and enhancing a number of functions provided by the command-line utilities, NetStat Agent gathers all information about the network and connection configuration in one place. You will never need to go back to using netstat, arp, ipconfig, ping, traceroute, nslookup or whois tools from the command line!
NetStat Agent allows network administrators to monitor TCP and UDP connections, diagnose connection settings, troubleshoot network configuration, and obtain information about network resources such as remote hosts and domain names. The built-in Whois tool queries domain names for exact information about their owner, and allows checking whether a domain name is taken or still available without visiting any domain registrar's Web sites.
Not limited to displaying just network configuration and current settings, NetStat Agent also provides dynamic statistics and logs TCP and UDP connections with full information about each applications opening a connection. Suspecting a virus or Trojan? It's easy to figure out exactly what process maintains a particular connection, obtain the path to its executable and DLL files on the hard disk and determine where in the world the connection terminates. NetStat Agent collects and displays network and TCP/IP statistics, logging and aggregating data such as sent and received TCP and UDP packets, the number of ICMP messages, sent and received IP datagrams, and more.
Network administrators can change many network settings without leaving the NetStat Agent interface. A unique feature of NetStat Agent is the ability to change MAC addresses of network adaptors, or restore their original physical MAC addresses if they were changed from somewhere else.
If you need an all-in-one tool to monitor and troubleshoot a network, NetStat Agent is the ideal solution. Featuring comprehensive functionality combined with a full graphical user interface, NetStat Agent will be appreciated by new and experienced Windows network administrators. Download a free trial version!
December 8th, 2008
flexbyte

Comments Off