How to use IPConfig tool?
IPConfig shows network, adapters and interfaces configuration. IPConfig (Internet Protocol Configuration) allows you to renew DHCP configuration or send the command to DHCP server to release and discard the IP address configuration. This tool is very useful on computers that are configured to obtain an IP address automatically.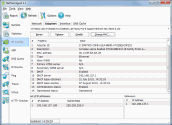 The status bar displays the last refresh time.
The context menu has the following commands:
Refresh - refreshes network information.
Network- shows network parameters for the local computer.
Adapters - retrieves adapter information.
Interface - shows the information of network interfaces.
Copy - copies selected item to the clipboard.