Interface Overview
The main window of NetStat Agent after launching it.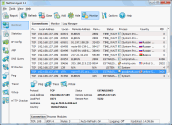 The main menu consists the following commands:
File
Save Report - saves the report of selected tool to file.
Exit - closes the application.
Tools
NetStat - shows all active TCP and UDP connections.
Statistics - displays network and TCP/IP statistics.
IPConfig - shows network, adapters and interfaces configuration.
ARP - monitors entries in the Address Resolution Protocol (ARP) cache.
Routes - displays routes in the IP routing table on your computer.
Ping - helps to test whether a remote host is reachable across an IP network.
TraceRoute - determines the route between your computer and the remote host.
Whois - retrieves all the available information about an IP address or domain.
HTTP Checker - monitors web sites to test whether an URL is reachable across the Internet.
Windows Tools - access to windows tools like regedit, command prompt, etc.
View
Refresh - refreshes the information of selected tool.
Topmost Window - makes the program to be always on top.
Options - displays the program options.
Help
Contents - opens the help file for current tool.
Support - opens our web-site for support information.
Check updates now - checks program updates.
About - displays program information, version number and copyright.